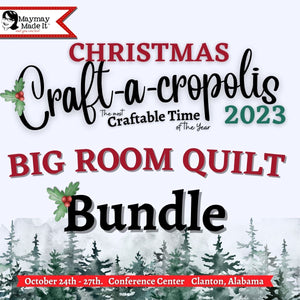 Layer cakes and paper packs are very similar.  Penny and Emily will show you how to take the one layer cake and make as many quilt blocks as using it!  Then you will turn those blocks into a quilt top with a border.
This class will be done at your crop table in the crop room.  You will complete one part of the quilt daily till your complete quilt top is done!
Your kit will include all fabric needed for the quilt top.
You will need your sewing machine and the tools it requires to operate, bobbins, foot petal, etc.
You will receive a class schedule at registration on Tuesday morning.​
THINGS NOT ALLOWED IN THE VENUE:
GLITTER
OPEN FLAMES
ALCOHOLIC BEVERAGES
ILLEGAL SUBSTANCES OF ANY KIND
This is an in-person event, lodging, and transportation are not provided.
DUE TO THE NATURE OF THIS EVENT, THERE ARE NO REFUNDS AVAILABLE