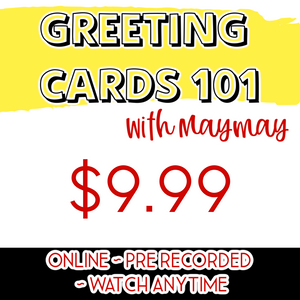 Do you want to know all Maymay knows about greeting cards?  Then this is the class for you.  This class is an all-inclusive class that covers topics like card sizes, matting, dimensions, best practices and even mailing!
This is a pre-recorded, video only class.  No kit is supplied with this class.  No physical items will ship to you with this order.  This class does have a printable you can access for note-taking and reference.
NO DISCOUNTS/COUPON CODES MAY BE USED ON THE PURCHASE OF THIS CLASS.
Upon purchase you will receive an email with a video link for you to watch the class at your leisure.  You will have access to this class as many times as you'd like to watch it.  Be sure to save the email with the link for ease of access later.